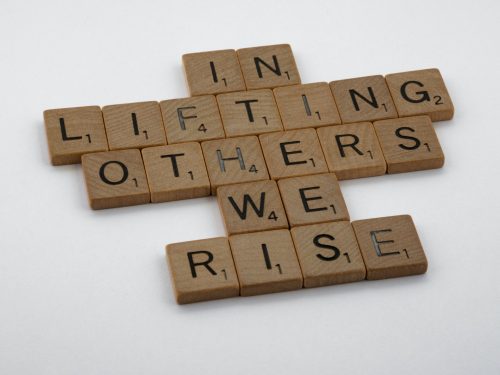 Thank you to any and all veteran's reading this, I appreciate your service.
This year we've seen a lot of people struggling and grinding their way through adversity.
Recently one of my Manufacturing Industry contacts, Andrew Stackpole, posted a brief but sincere message. His hashtags, and the accompanying photo drew me in: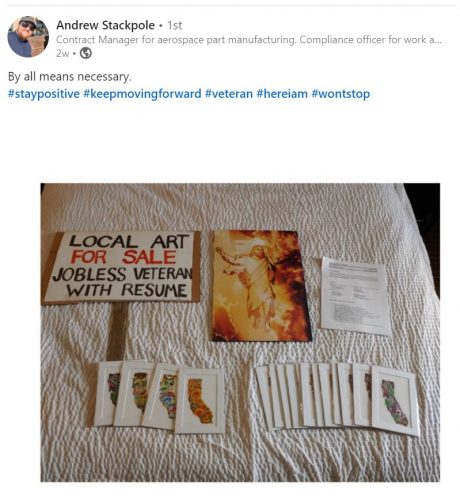 I decided to investigate his art site. When I arrived, once again I was met with a sincere message "Art For How You Feel":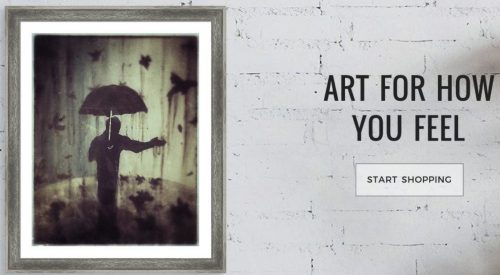 I think he did an amazing job of capturing the essence of his art with that caption. When I looked at each picture I imagined what he was feeling when he created it. It was a window into his world, and for a moment, I felt like something I would never consider myself to be – someone good at interpreting art. There must be truth to the adage "making something look easy is the sign of a real professional."
I also got a jump on some Christmas shopping. My brother-in-law Steve is an up and coming winemaker. Andrew's "Home Grown" from his California Love series was a perfect gift idea for Steve. I ordered Steve a spiral notebook and some greeting cards. I imagined Steve sending thank you cards to customers with the same personal touch that goes into his wines. (I hope he's not reading this!)
I also ordered a couple of spiral notebooks for myself. Perhaps a future edition of this newsletter will be outlined in one of them.
You might be wondering at this point where I am going with this, I promise I will deliver something you can put to use before the five minutes is up!
Lack of opportunities, struggles from Covid-19, election divisiveness, and unrest have taken a toll on us this year. I have been thinking a lot lately about how there has been an escalation by many, mostly on social media, of hyper-tribalism. Things are no longer about differences. Differences are personal now. If you don't believe what others say or do, or signal you support them, you can end up facing their wrath. Sadly, it has gotten so out of hand that there are even stories of parents and children suggesting their relationships are permanently affected by it.
I tried to be mindful of this when I appeared on a podcast advocating for US manufacturers earlier this year. I walked a fine line supporting the people of China (not their government), and supporting policies I felt would benefit the free world. Things, which in hindsight, I could easily have been ridiculed for then or now depending on the audience.
Knowing this was going to be a contentious election season, I opted out of all social media, except LinkedIn, for two months. From that, I managed to have almost zero stress about the election or the turmoil surrounding the divisiveness. To me, that is pretty amazing. Needless to say, I am going to try to focus on mediums to interact with people that are more constructive. This includes the regular phone calls (and hopefully before long, in-person visits) I have with many of you.
I promised I would get to the point, and while I've talked about two very different things. they are related. Have you guessed the connection?
For the next two weeks, I am encouraging you to think about and make changes that make you happier. A happier you is much more creative, motivated, and patient. These are skills which will help you more efficiently navigate your Industry 4.0 journey, and life in general.
The first exercise is to think about someone you can help. Pay someone a compliment when they least expect it. Perform a random act of kindness. Maybe buy some of Andrew's artwork. Your choice. If you need more motivation read "The Secret to Happiness Is Helping Others." Here is an excerpt:
"Scientific research provides compelling data to support the anecdotal evidence that giving is a powerful pathway to personal growth and lasting happiness. Through fMRI technology, we now know that giving activates the same parts of the brain that are stimulated by food and sex." ~Jenny Santi
The second exercise is to think about an optional activity which distracts you, in a negative way, from doing your best work. Try putting it on a forced vacation for a month, or better yet two, and see what happens. Please report back if these or any of the other tips help you.
I also want to take time to thank all the people who have encouraged my writing, your emails and calls mean a lot to me. If we haven't talked in a while, please feel free to book a brief check-in call with me. I'd love to hear how you are doing.
If you found this newsletter useful, please share it with a friend. If someone shared it with you, you can sign up here.
(This newsletter was originally published on November 13, 2020.)
Image courtesy of Brett Jordan