Licensing should not be complicated and luckily CIMCO believes this philosophy. To keep things simple there are two highly effective ways that CIMCO Products are licensed in North America.
Activation Based
Network License Server
Activation Based License
The "standard" CIMCO license is activation based, that is a license without a license server. The software license you get from us will be allowed a certain number of activation's based upon the number of seats that you purchased. Each activation is associated with one physical (or virtual) computer. This license model is typically used in these situations:
Where a single or very small number of licenses are involved
Where the customer does not want to have a license server
Situations where a TCP/IP Network is not available
The activation process is actually pretty simple, the user installs the product such as CIMCO Edit and then runs the product for the first time. On Windows Vista/7/8 you will right click and choose "run as administrator" when launching for the first time one of two things will occur. The system will either start in demo mode if the computer has never run CIMCO Edit: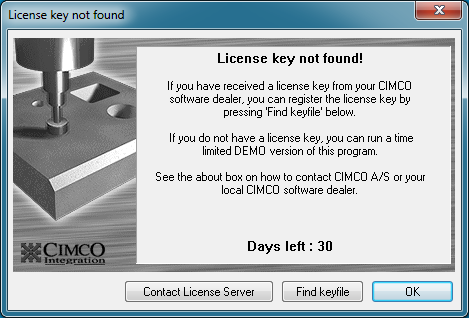 You may wish to take advantage of the DEMO mode, as it does include options you might not have in the license you purchased such as CNC-CALC. If you want to go ahead and apply the license key file you click "Find keyfile" and browse to a directory where you saved the license file you received from us. This could be either a permanent or temporary license. You will then be prompted to activate: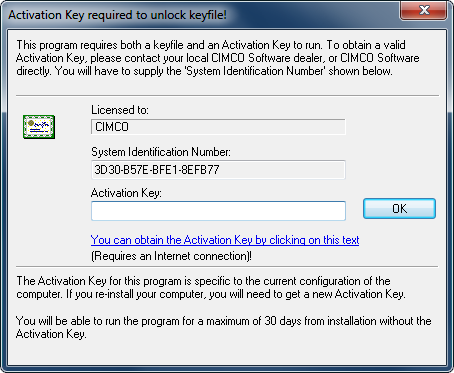 At this point you can click the "You can obtain the Activation Key by clicking on this text" if the computer has internet access and it will generate an activation key for you. Once established this key is unique to the computer and to move or re-install you may require a re-activation. We will explain that procedure later in this article. If the computer is not connected to the Internet you will need to write down the System Identification Number and type it into the CIMCO Activation Page. That page will return the key that you will need to type in to the Activation Key box as pictured above.
Problems with Activation and Demo Mode
If CIMCO Edit has been run in demo mode previously on your computer, you will get a message indicating that the demo has expired prompting you for a key file. If you found this article while trying to Demo CIMCO Edit, you can request a temporary file from us in these situations. Support is always available also for activation issues.
Moving your License or Re-installing on a Failed System
It is sometimes necessary to move the CIMCO software from one machine to another, or just re-install on a completely failed machine such as one that has a failed hard disk. In both situations the procedure involves contacting us to re-activate your license. We can do this quickly for you, just be sure to include your Company Name and Address so we can locate your license in the system.
CIMCO Network License Server
The license server is used in more complex configurations with multiple users. The typical applications are:
Multiple licenses or even multiple CIMCO products are in use
Where you desire to share a license across a number of computers
When a TCP/IP Network is utilized
The network license server requires a little more effort but is still relatively simple to implement. We have several entries in our Product Documentation about the License Server. Keep in mind you can collapse or expand each category as needed:
[qa cat="CIMCO License Server"]
Still have questions or need support?
We are available to assist you with your questions about CIMCO licensing or any CIMCO product. Want to learn more about CIMCO Products or make a detailed inquiry?