Minimizing chaos, reducing bottlenecks, automating workflows. These are things I do for my clients all day and every day. Ironically, I found myself in a classic "cobbler's shoes" situation recently. While things might have appeared orderly and systematic on the outside, I had noticed things weren't running very efficiently on the inside and I needed to make some changes.
So I took a big leap and hired Dawn Buford to turn the chaos into order. In the midst of the pandemic and everything else, it might seem risky but I wonder why I took so long to do this. I'd like you to meet her because if you haven't already, you'll be coming into contact with Dawn if we do business together.
Her job is to make sure there are no glitches in your customer experience. In doing so, she is streamlining our own operations.
Dawn thrives in environments where she is challenged. She loves to organize and develop systems. If you know me, you already know this is a great professional match. We started with cleaning up the client database and establishing a system for routine check-ins. Like a renovation project, one thing led to another. When you start cleaning one area, you notice the next thing and the next thing. Pretty quickly, the efficiencies Dawn has created have made a lasting impact for me and for our customers.
Dawn grew up in central Illinois and attended the University of Illinois, moving to Chicago upon graduating. In 1998, she joined Cars.com when they were just a startup, working for them for 16 years until they were bought by Gannett (one of the original investors). During her time at Cars.com, she supported the CEO, the Chief Legal Officer, and the SVP of Business Development.
I'll turn this over to Dawn now.
Hi! While at Cars.com, I supported three key executives and was fortunate to be part of a team that helped to build and grow a successful company. In the early days as a startup, I pitched in and volunteered to help wherever needed, sometimes taking on tasks completely outside of my job description. I loved doing this because it enabled me to gain new skills and grow professionally. I learned a great deal from those leaders I worked with and I continue to carry that forward into whatever work I am doing.
At Managed Solutions, my job is to make Joe's job easier by handling the administrative tasks so he can concentrate on the bigger picture. It is truly fulfilling for me when Joe and Kevin know everything is running smoothly and efficiently and they don't have to worry whether things are being taken care of. It is important for me to do the best job I possibly can at all times. As a representative of the company, it's my responsibility to not only make my team look good, but more importantly, to make sure our customers are happy and well-cared for. I want Joe, Kevin, and our customers to know that I am here to help them thrive.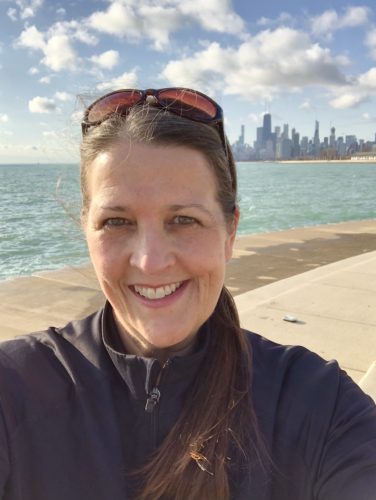 When I am not organizing work things, I am reading, walking, cooking, or traveling the world. I am also lucky enough to live across the street from Lake Michigan where I spend a lot of time exploring and enjoying nature.