You probably need to edit NC code from time to time, or maybe you're just a wizard with g-code and like to write programs manually. If you use CIMCO Editor you might use features such as the NC-Assistant to generate or modify complex M or G codes. What do you do though if you are editing a very large file and you find a few areas you want to come back to? Until now you could jot down the line number on a piece of note paper, or search for the code, but now there is a much simpler solution – bookmarks for CIMCO Editor.
Acquiring the Update
Don't see the bookmarks feature in your version of CIMCO Editor? This feature became available in build 7.20.02 in January of 2015. If it's missing, you probably need to upgrade. The first step is to make sure your maintenance is active. You can do this by accessing the help menu in the upper right hand corner and choosing "about". That will result in a screen that tells you how long your maintenance is valid or if it is expired. Once you've confirmed your maintenance is active, the simplest way to download the latest update of CIMCO Editor is using the same help menu in the upper right corner and choose "Download Latest Version". If your version doesn't offer this link, you can use our CIMCO Editor demo form to download the latest version. Once you have and install the latest version you can move along to the next step.
Accessing the Bookmark Feature in CIMCO Editor Professional
Now that your CIMCO Editor is up to date, you should see an added menu at the top right of the window:

Now you have the ability to drop bookmarks into your open NC files. These bookmarks are saved in the Editor so the next time the file is opened you will have access to them. The buttons are fairly self explanatory and if your hands on you can probably just start playing with the feature now and quickly figure it out.
Utilizing the Bookmark Feature in CIMCO Editor Professional
So you're an engineer I see, going to finish reading the article. Good deal. The buttons have corresponding features as described below this paragraph. You'll notice we're starting right to left through the menu because the Toggle Bookmark button is a requisite for the rest to work.
Toggle Bookmark
This button inserts a bookmark at a highlighted line in the editor window. In the example below line 332 was selected and toggle bookmark or the F2 keyboard key was depressed. This brings up an indicator window that lets you confirm this is where you want the bookmark: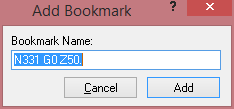 Once confirmed by clicking add, your bookmark indicator will now show up for the corresponding line number: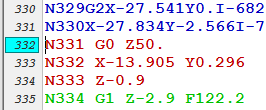 Once you have one or more bookmarks associated with the NC program, you will then be able to use the other features.
Goto Previous and Goto Next
These options allow you to quickly navigate up and down the NC program. They will seek the next bookmark above or below the highlighted line you have selected. If you prefer to use keyboard shortcuts you can use F5 for Go to Next or Shift+F5 for Go to Previous.
Toggle Indicators
By clicking toggle indicators you will turn the indicator highlights on and off. If they are not being used this might be useful to prevent your brain from having to process one more thing that is different on the active screen.
View Bookmarks
This is a very useful way to browse and manage a list of bookmarks you created.  This can be particularly useful if you didn't create the bookmarks in order and will make navigating and deleting them a lot easier. Here is a sample of the menu: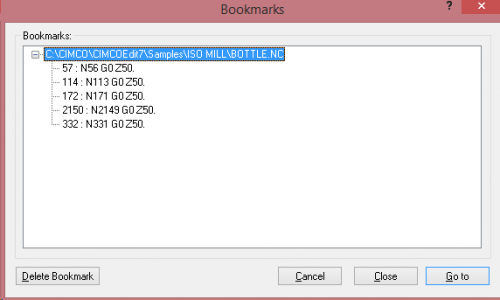 Video Demo
Here is a short HD video of the CIMCO Editor Bookmarks feature in use. Or if you prefer use the lower resolution version below:
Power User
It's official, you are now a power user of CIMCO Editor. Hopefully this feature will save you some time on a future project. You can get more information and training resources for CIMCO Editor on our CIMCO Editor Training and Educational Resources page. Do you have tips or expertise to share? If so we encourage you to participate.
Extra Credit – Updates to CIMCO Edit Bookmark Feature
The team over at CIMCO A/S is constantly getting feedback from users and distributors around the world. Here are some updates to CIMCO Editor Bookmarks since the original publishing of this article.
CIMCO Software Version 7.20.09
* Double-clicking a bookmark in View Bookmarks dialog will now quickly 
 jump to the bookmark.
 * If line numbers have been disabled in the Editor, they will be 
 temporarily displayed when toggling Bookmarks Indicators.
 * Better handling of Bookmark "Go To": if a File has been deleted, the 
 user can choose to delete all bookmarks associated with that file.
 * Show Keyboard shortcuts for Bookmarks in the Contextual Menu.
 * View Bookmarks button is always enabled, even when no files are open.