Recently we had a customer who had a number of ports go offline on their CIMCO DNC Max system. After doing some troubleshooting it was determined that all of the Moxa devices in question had been reset to the factory default IP Address of 192.168.127.254. This indicates that the reset button had been triggered. Once you've configured a Moxa NPort device for a critical DNC, bar code reader, or other mission critical RS-232 application, it is possible that it could be reset causing service disruption. Locking this feature will protect you from downtime in case someone improperly attempts to reset the device.
If you don't currently have documentation stored, you can use this sample Google Doc sheet that is similar to one we use for our customers with extraneous fields hidden or removed.
Location of the Nport Reset Button
On every Moxa Nport device there is a reset button, in the case of the Moxa 5110 it is located on the top panel between the Ethernet port and the power jack. Using a paperclip or other fine diameter device you would use this button to reset the unit to the factory settings. This can be useful if you've lost the information for the device.
How to disable Moxa Nport reset button
In order to disable the reset button we'll need to access each Moxa NPort device to change the setting. This can be a challenge if you don't know where to look to find the IP addresses. The fastest way to handle this is to download and run the Moxa Nport Search utility (Alternate link added 10/2020):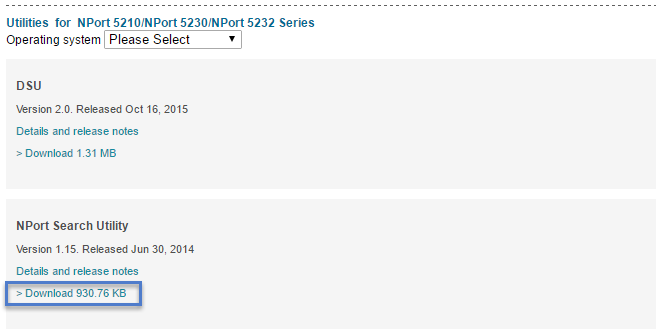 Once downloaded the Nport search utility should locate any Moxa Nport devices on the local network. After loading and clicking "Search" you will have the ability to double click the device you wish to open the web console.

Once the console is open you will click basic settings and that is where the reset button protect is located. Changing that to "yes" and clicking "submit", then "save/restart" will lock that function on the device preventing the device from being reset on the shop floor.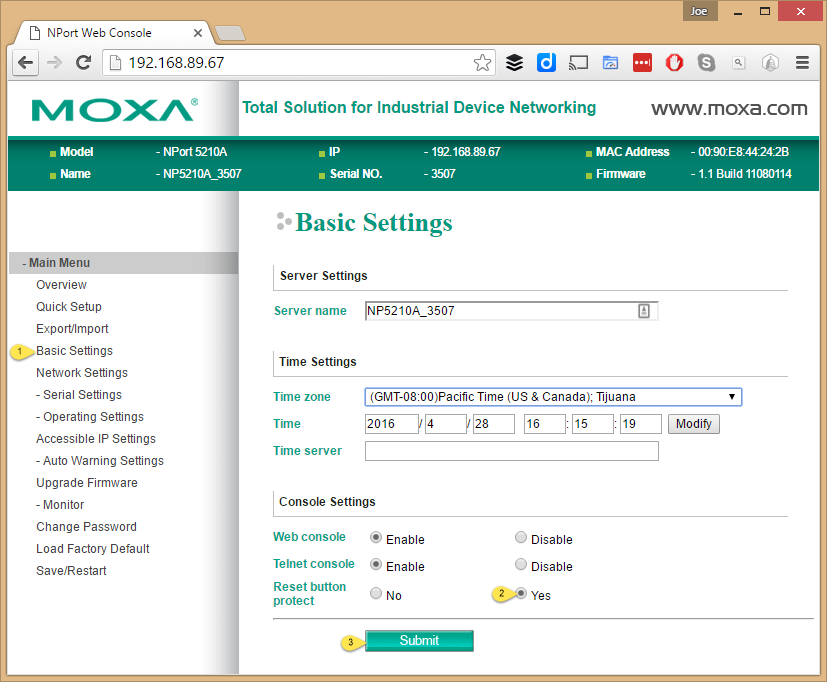 Your Moxa NPort devices reset buttons are now locked, be sure to save all the relevant information.