The professional choice for Manufacturing Data Collection

CIMCO MDC-Max is a real-time machine data collection system that gives you instant reports and charts about your shop floor productivity.
In today's complex and competitive global markets, it is more important than ever to maximize effective use of manufacturing equipment.
CIMCO MDC-Max provides powerful machine data collection and analysis capabilities to make this task easier and gives you real time reports including Overall Equipment Effectiveness (OEE). All of this can be achieved without the need to place PC's beside the machine tools – all the data can be collected by cable, wireless or ethernet (network) and is stored centrally even if you have multiple workshops to monitor.
CIMCO MDC-Max integrates with the latest version of the most trusted CNC-Communication software on the market – CIMCO DNC-Max.
Read more about MDC network solutions
How MDC-Max works
MDC Max supports many different network systems including HAAS M-Net, Fanuc FOCAS, MTConnect, Heidenhain Opt18, and NETLink PRO. If any of these options are available, the MDC system is relative simple to setup. If your CNC machines do not have any of these options there are two other ways to get the signals. One of them is to use Dprnt statements or macros to indicate when Cycle Start occurs and on M30 (Part Complete). There is also a very reliable option to get signals directly from the machine control. In these cases ioLogik units or MDC Box units are installed inside the machine control. These are in turn wired into the 'Cycle start' and 'Parts counter' relays. Every time the machining cycle or the parts counter signal is detected by the MDC unit a code is sent back to the MDC-Max software. Because of the variety of types of machine controls the monitored signals may vary depending on customers requirements.
These codes are recorded in real-time on the computer system and can be displayed immediately in a graphical format.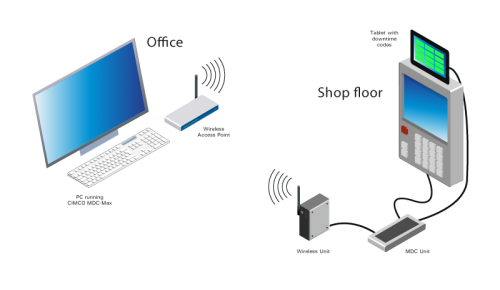 Setup with CIMCO MDC-Max connected via wireless to machine(s) on the shop floor. A tablet is used for entering and sending downtime reason codes back to MDC-Max.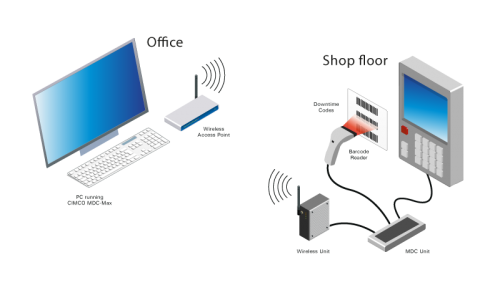 Setup with CIMCO MDC-Max connected via wireless to machine(s) on the shop floor. Bar code reader is used for scanning and sending downtime reasons back to MDC-Max.
If a machine is not in production for some reason there are multiple solutions for notifying CIMCO MDC-Max. This can be done with a tablet, a mini PC with touch screen or a bar code reader where an Operator either chose the downtime reason on a tablet/touch screen or use a bar code reader to scan the appropriate downtime code.
The choice of using either a tablet, mini PC or bar code reader depends on the customer's specific setup and need.
Downtime reasons codes can be fully customized to your company such as:
Waiting for Setter
Waiting for Maintenance
Waiting for Tooling
Waiting for Material
Waiting for <other>
As MDC-Max records all this information you can then generate reports to see how much production time has been lost due to waiting for tooling etc.
Basic Machine Data Collection
The majority of companies only want to know if a particular machine is running and producing or if it's stopped. The basic data collection will produce charts to show the amount of time the machine has been in production and the amount of time allocated to downtime. It is then up to the supervisor to ask the operator why the machine was not running.

Basic Machine Data Collection
Advanced Machine Data Collection
With Advanced Machine Data Collection we can provide accurate reporting of the machine tool efficiency on any job. We can show the total percentage of downtime for each type of machine stoppage such as Tooling, Setting and Machine Maintenance etc. This additional information is provided by the operator using a barcode reader or a touch screen. The operator simply scans a barcode or use the touch screen to indicate the reason for the machine downtime. This information can then pin point exactly what is causing a loss of production.
Operator ID login
MDC-Max knows who is logged onto the machine
Setter login
MDC-Max can separate out setting time for each job
Maintenance ID login
MDC-Max can separate out maintenance from downtime
Waiting for material
operator swipes this to say he is waiting for stores
No job
there are no jobs waiting for the machine
Scrap part
the last part was scrapped so remove it from the good part count
Tool broken
the operator is waiting for a setter


Advanced Machine Data Collection
Overall Equipment Effectiveness (OEE)
MDC-Max provides powerful machine data collection to automatically provide the information from your CNC machine tools to produce Overall Equipment Effectiveness (OEE) reports. Worldwide studies indicate that the average OEE rate in manufacturing plants is 60%. A World Class OEE is considered to be 85% or better, clearly there is room for improvement in most manufacturing plants!
Reports and Graphs
With over 100 available report templates you can easily display your data to enable you to explore down to the appropriate level to see exactly what is happening with your production schedules.
Cycle Time per Part (min, max and average)
Number of parts per shift / operator
Number of scrapped parts
Machine downtime
Scheduled Maintenance
Unscheduled maintenance
Setup Time per part
Operator effectiveness
Overall Equipment Effectiveness (OEE)
Realtime Machine Display
See which machines are running at a glance
MDC Max Web
There are exciting changes on the way for the CIMCO web MDC Client for 2017.
The MDC-Max web client allows mobile equipped users to access and interact with the operator screens. Using responsive design the system scales to fit a variety of devices. The sub screens, buttons and inputs are all available. Everything is very easy to setup and use. This system will provide you with the flexibility to access the operator panels from devices of your choosing:
A truly integrated solution
CIMCO MDC-Max is fully integrated with CIMCO DNC-Max and CIMCO NC-Base giving you a complete DNC, document gathering and Machine Data Collection system from one supplier.
CIMCO MDC-Max
MDC-Max is the software which is responsible for collecting all the machine tool data for in cycle and number of parts produced.
CIMCO DNC-Max
DNC-Max controls the sending and receiving of CNC programs to your range of machine tools. Programs can be requested from the machine control thus avoiding the operator having to leave his machine. Any program changed by the operator and sent back to DNC-Max can be automatically raised in version or stored in a quarantine area. This gives you the ability to track changes and revert back to any previous version if necessary
CIMCO NC-Base
The data collected by MDC-Max can be analysed immediately by the NC-Base module to produce graphs and charts showing you exactly what is happening with your production schedules. NC-Base also allows you to store any documents related to a particular job. These can be drawings, photographs of machine setups, tool lists, operation sheets, CNC programs etc. This makes finding any information about a particular job extremely easy.
CIMCO MDM (Formerly PDM)
CIMCO MDM integrates similarly to NC-Base and also provides MDC results on part numbers or NC Programs. This is useful for seeing average Cycle Time and other production data from within the MDM client.
Additional MDC Resources
Interested in MDC for your facility?
We are happy to discuss an MDC solution with you. If you'd like to learn more use our contact form below or give us a call. You can also make a more detailed inquiry online if you prefer. Never miss a new article about MDC, sign up for our news.