In November of 2015 CIMCO A/S the makers of CIMCO Software products such as CIMCO DNC-Max, MDC-Max, CIMCO Editor and CIMCO MDM announced that version 8 would be release in 2016. While CIMCO has a very busy group of developers with updates made usually multiple times per week, so called "point releases" or new versions are generally every 1-2 years and include significant improvements to the entire product line. Version 8 is actually one of the largest leaps ahead and demonstrates the expanded development team and commitment to keeping CIMCO Software products at the leading edge of the computer integrated manufacturing industry. Customers with valid maintenance will have immediate access to this version when it becomes available to the marketplace.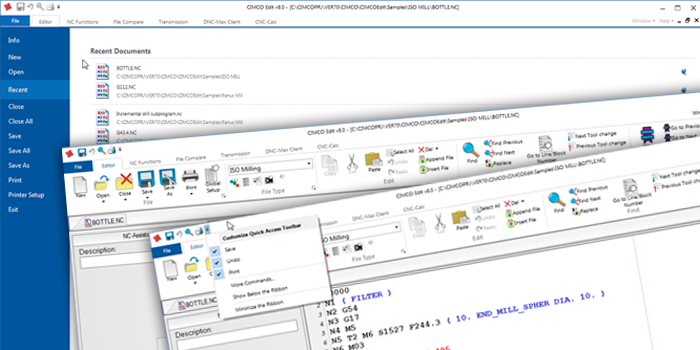 Here is a current list of some of the items that you will see in CIMCO Software Version 8:
CIMCO EDIT 8
CIMCO Edit will get a new interface look in style with Microsoft Office
Will support file transfer through FTP (server and client)
New advanced Open File dialog with search criteria on file name, file content, and created/modified dates
Improved backplotting / additional converters
Learn more about CIMCO Edit 8.
NC-BASE 8
Also support for MariaDB SQL, which will support database-level encryption
MDC-MAX 8
MDC-Max 8 will get a new interface look in style with Microsoft Office
Central Cache
MDC User Permissions
Automatic update of MDC clients
Support of multiple schedules with arbitrary start of work week in reports
Conditional disabling of MDC buttons / input fields
New legend in timeline
Extended report selection window
Central cache
Backdating of MDC data
More and improved interfaces for networking machines
DNC-MAX 8
Support for OPC signal mapping to MDC-Max
Support for DNC-Max event mapping to OPC output
Support for Brother controls (C00 and B00)
LICENSE SERVER 8
New License Server with new interface and features
Multiple License Servers on one network
Reserve licenses for computers
View License Server status and settings from any client
LICENSE SYSTEM
New license file format with improved security
New and improved handling of license activation, including automatic activation, activations stored in the license file and recovery of deleted activations from CIMCO's servers
License configuration and license file placement to be moved away from program folders
CIMCO SOFTWARE MANAGER 8 (NEW PRODUCT)
This IT friendly product will encapsulate the License Server and has planned future features, including centralized update pushing through Microsoft Active Directory
---
If you want to be among the first to experience version 8, let us know and we will make sure you are notified as soon as the products are available to download. If you want to prepare for CIMCO Software Version 8, make sure your maintenance is up to date.